Are Robot Vacuums Worth Using?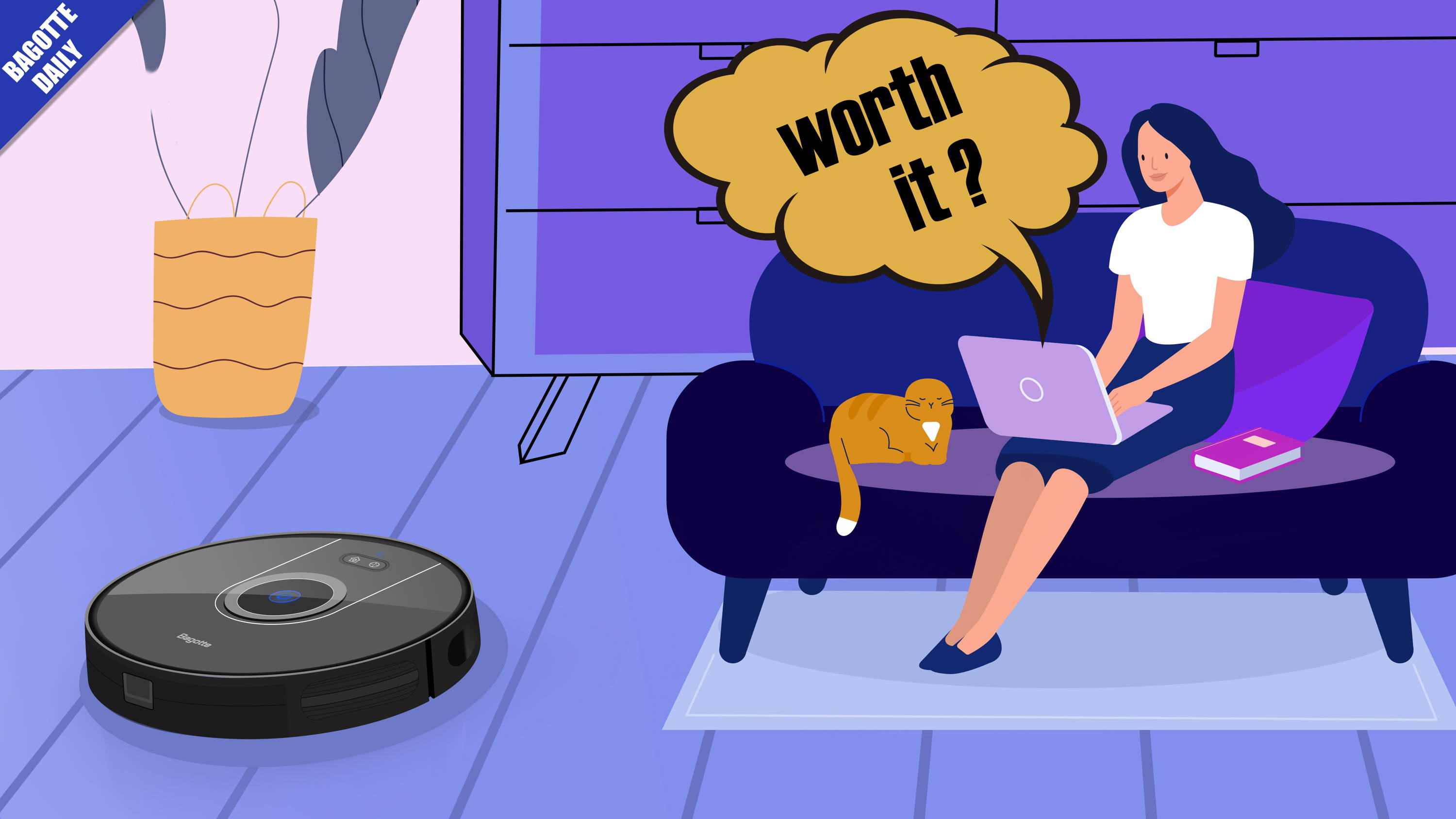 Thanks to the Technological Advances, robot vacuum cleaners have come to our lives as little intelligent helpers in cleaning our home.
Can you imagine returning home one day, tired from work or meeting friends and finding your house clean, because your robot vacuum cleaner has already done this hard task. That's right, people are very busy in their daily activities such as working, studying, business meetings, etc., or they simply take the time to do their hobbies, meet friends or rest. The least you want to think about at that moment is cleaning.
Having a robot at home to facilitate the vacuum task is undoubtedly really attractive and advantageous.
But, what is a robot vacuum cleaner?
The robot vacuum cleaner is an intelligent small robot with round appearance design to vacuum, sucking up dust and mopping your home leaving clean and tidy.
Then, the robot vacuum cleaners are born as an alternative to save time and effort in cleaning our home.

The first robot vacuum cleaner was introduced in 1996 by Electrolux, and since then until today, we can find many models and designs of robotic vacuums with different features and functions. All them with the same common purpose: to make your life easier and more pleasant in the cleaning tasks.

How do robot vacuum cleaners work?
The robot vacuums have a smart programming system that allows them to perform scheduled cleaning tasks. They slide through small wheels built into the bottom and the cleaning task is carried out through the integrated brushes also in the lower part. Usually the brushes can be replaceable. The suction is carried out through a suction motor which do this task depending on its suction capacity.
Furthermore, robot vacuum cleaners bring with a charging base that facilitates their recharging.
Isn't it awesome what a robot vacuum cleaner can do?
How do robot vacuum cleaners help you clean your home?
One of the interesting part of robot vacuum cleaners is that they can effectively clean different types of floors and carpets, even the edges of rooms and furniture.
All you need to do is turn on your robot either from its power button, or through the control or application. Once turned on, the robot will start working according to the programming or instructions you give it.
The another favorite part is that you don't need to watch your robot all the time. The robot will carry out the cleaning according to the programmed cleaning mode and, even more incredible! the robot will return by itself to its charging base once its cleaning task have been completed or when it's battery power is very low.
Are robot vacuum cleaners really effective?
Robot vacuum cleaners have a suction capacity powerful enough to suck up all the dust and objects that are in their path. In addition, the dust box has enough capacity to store the collected dust for the maximum cleaning schedule time.
So, the effectiveness will depend on their suction power capacity, programmed cleaning modes, brushes, running time, and gliding ability.
What are robot vacuum cleaners main advantages?
One of the great advantages of these robot vacuums is that they help to maintain the cleanliness of the home without investing a lot of time or effort.
Some of robot vacuum cleaners main advantages that make you want to have one at home are:
1-Smart programming: They work autonomously and correctly fulfill their programmed cleaning function without having to be behind them.
2-They are small and easy to use: Their compact design allows them to easily slide from one place to another.
3-Climbing ability: It depends on the capacity of each robot, some can cross a higher threshold than others.
4-Anti-shock and anti-fall protection: Most of today's robots can cross dodge objects and furniture in your room or office and also can protect itself from falling off stairs.
5-Multiple Cleaning Modes: Different cleaning modes allow you to choose how you want to clean your home.
These are just some of the advantages that I can mention about the robot vacuums. But it is clear that each model and type of robot vacuum cleaner includes more functions that make them unique and attractive.
Is it worth buying a robot vacuum cleaner for your home? Yes, It is definitely an excellent invest, since a robot vacuum cleaner will be very useful to complete the cleaning in your home, saving you a lot of time and effort. In addition, robot vacuum cleaners are very effective to perform cleaning tasks in their different programmed modes and with their different abilities and qualities.
If you want to know more about these wonderful robots or you already decided to purchase one, please visit our official page: https://www.bagotte.com/, where you will find more information about these incredible vacuum cleaning friends.
-If you have any questions or suggestions, you could join our Bagotte-Forum to communicate with others!

-If you are interested in our blog, you can register E-mail on the blog page to get our blog push information at the first time!
Isui, a design expert specializing in smart home products. Served as a consultant for many well-known smart home brands. His product research report has been rated as the best evaluation standard.
Latest posts by Isui (see all)